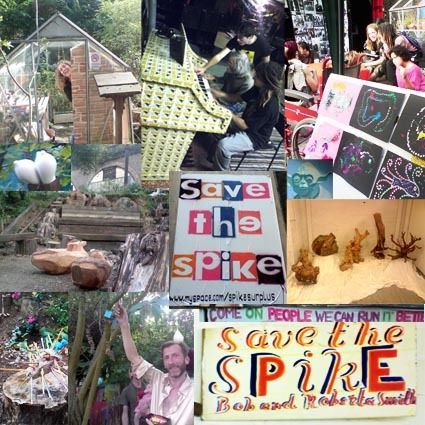 We had an art exhibition here a fortnight ago. It was advertised in TimeOut and followed all our press appearances so everyone interested could come down and have a real look at the place and see the stuff that goes on. The whole place is a work of art. And that's what the Spike Specific curator, Mark Hammond, was keen to get across.
We had some big names exhibiting. There was art from Yoko Ono,
Gavin Turk
, and Bob and Roberta Smith made special Save the Spike pieces along with
Mark Thomas
. Richard Prince had some art in the exhibition, as well as
Crymein
, Richard Niman, and many more. We tried to get
Antony Gormley
involved… he apparently lives just down the road, and would be expected to be in support of the artists who are based at The Spike. We all had a vision of the Angel of the South.. which led on to the idea that if he did make one we could include William Blake on the line up.. with the
angels he saw in the oaks on Peckham Rye
. We have the oaks here already from our Oak Nursery, which get planted out in our local parks (with permission) every winter.
There are connections to Banksy but we didn't get through in time. We thought we'd be OK for putting
Mark Wallinger
on the list. He'd replicated an artwork my friend Sue and I did. The artwork in question was part of the Brian Haw display from Parliament Square that he copied and won the Turner Prize with. No disrespect.. it was great he got it in the news, just to say that I felt just.. but we didn't get round to repainting the 3 monkey saying "see no truth, hear no truth, speak no …" with the last monkey gagged, so we didn't put him on the line up.
It was a beautiful day.
Andrew Bylo
showed up and made some beautiful sketches of the day as it went on. Prasanth Visweswaren exhibited his sleep series of photographs, a stunning collection of sleeping from around the world, linking in nicely with the history of The Spike and its homeless centre past. One graffiti artist came to do a piece saying
FREE DPM
. They are a crew that have been given 2 year sentences for painting a train. Criminal Damage. It makes me sad that multinationals have such a monopoly on our visual landscape.
Sandie Schells exhibited his wonderful Lowrey keyboard. A 1972 keyboard covered in buttons, keys, pedals which spews colour with its sounds. People couldn't get off it with 4 or 5 people jamming on it all the time. Yusuf Martin displayed his boat on the roof drawing attention to the ever more threatening results of climate change. Maryanne Gordon got out her array of activist art, which were being painted throughout the weekend. Rob Rub ran a record sale.. local hero DJ Rubbish's CDs went down particularly well, with all proceeds going to the save the spike fund. Bless him.
Elizabeth Manchester exhibited her plaster of paris boobs in the trees which got a fair bit of attention.
NoNo
got out his spikes, spray cans and potatoes and made some pieces in situ. Owen Alvares showed his natural art.. taking some beautiful examples of dead trees, cleaning them up to bring out the aesthetic features and putting it into the art environment. Freidal exhibited his wonderful carved wooden rocking ducks, whilst Spring set up a Spike wishing tree for intensions to be set. Raul Pina came and created a fascinating piece from what he found on site, sticking to the 'site specific' criteria. And there were many many more exhibiting. Beautiful colours came from the Spike kids art area. Delicate flowers from recycled materials were crafted for décor for the Peckham Green Fayre.
PS Burton was on the line up. That was George Orwell's tramping name. A few weeks ago Mick Hollylee, a former worker at the Camberwell Reception Centre (1976-1985 or something like that) turned up. His dad had worked here as well. He totally loves the Spike. He had some lovely stories, and some scary ones. We had an interview of his running on repeat in the toilets, along with the history wall, so everyone got a chance to appreciate the fascinating history.
Once again no one from the Council came by. Or no-one with any particular power. Legal services have apparently now advised the relevant Councillors and Planning department workers not to meet with us.. so we're a little stuck. Challenging times.
But lovely.
The Bonnington Square Café
did a fundraiser for us Saturday night. I think the place has a similar history as Spike. They make delicious vegan food and the managers, who are married, met at a Spike Halloween! So we've got to have another of those! All the staffs wages went towards our deposit.. 240 quid!! Big up!